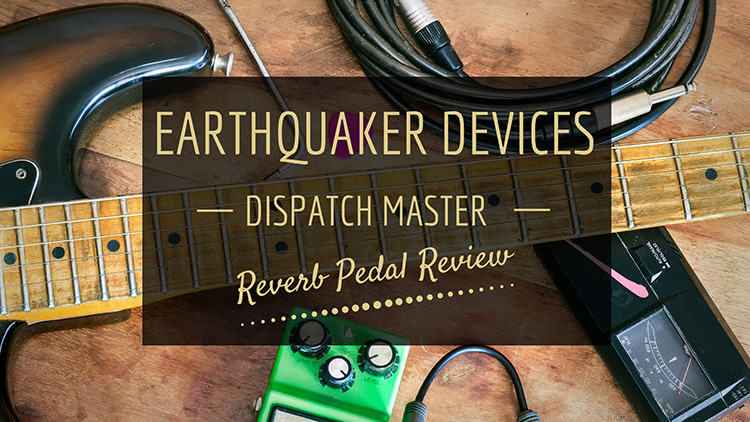 Review EarthQuaker Devices Dispatch Master Reverb Pedal
So you have an electric guitar, and it sounds amazing. Only the sound it produces is a bit too dry for your taste. What would you do to get that perfect sound, making sure that the tone has that perfect edge to it, without being too dry?
The answer is simple; you go out and get a reverb pedal. But wait a minute; it is not as easy as it sounds. You cannot just go to a music store and pick up the first reverb pedal you see.
You have to do your research; you have to find the best pedal out there that suits your guitar, your taste, and your budget. Now, how do you know that?
Read on, and you'll know what to look for in a great reverb pedal. It is our job to test and review the pedals that are out today and after doing a test run with this Dispatch Master reverb pedal from EarthQuaker Devices, we are confident that it would be a nice pedal all around. This is a fabulous reverb pedal that will be the perfect companion to your electric guitar.
2017 Update: We provide several alternatives of this pedal. Check them out:
---
Benefits That Stand Out
After seeing exactly what this pedal is capable of, we could not help but feel that the EarthQuaker D M Delay and Reverb is a pedal that is really a master in class.
The manufacturers did do a really wonderful job with this thing, as the device seems to be offering some of the best-in-class reverb effects available today. Here are some of the characteristics that make this pedal one of a kind:
This pedal is equipped to produce 2 seconds of delay, which is great.
With almost infinite repeats, the delay signal of this pedal is very strong and clear.
​It has full analog direct signal path
It also supports true bypass.
You can use the effects in unison or separately.
It is extremely easy to control.
This EarthQuaker Reverb is a truly amazing device with a number of amazing features kept under its sleeve.
Along with the ability to produce an absolutely fantastic delay time, it comes with some awesome reverb modes. Let's take a look at them:
The signal of the delay has no after effect and prevents signal degradation.
The delay time, which is 2 seconds for this pedal, is simply one of the best in class compared to the other reverbs that you can find for the same price range.
The repeats slowly decay into an ambient swell that boasts zero fluctuations.
The reverb of the pedal is simply massive and produces a very natural, lush sound.
This pedal comes with a digital delay and a superb reverb.
It also supports true bypass switching for an extraordinary guitar experience.
The Pros and Cons
This EarthQuaker reverb has quite a lot of pros and almost no cons. Well, that may sound a bit overgenerous, but the cons are so negligible that it is almost like they do not even exist. Here is a list of the upsides and downsides this pedal has shown us during our test run:
The Pros
The quality and pricing ration is simply unbeatable! While the features that it provides are worth about 2/3 times the price it is generally offered at these days, the price of the pedal is super reasonable. For heaven's sake, this pedal gives you a delay time of 2 seconds, has all kinds of cool features and yet its price is set on the midrange. Even some of the more expensive and high-end pedals seem to fade in comparison to the EarthQuaker DM. It is highly unlikely you will find a better deal than this one.
The design of this super pedal is also superb. It is light, modern, looks great and most definitely well built. Carrying around your reverb is going to be an issue if you are a professional musician. In that case, the EarthQuaker Dispatch Master might be the best choice for you as it ensures easy portability.
Both the delay and reverb settings are very easy to use. If you only need reverb, turn the time control down. If you only need the delay, turn the reverb control down to the farthest point. Need both? Adjust both of the controls to your taste at the same time. See? It is no rocket science. Even a rookie can pull it off.
The pedal sounds great as it provides deep and rich reverbs.
The Cons
There is only one footswitch button in it. It might create a problem for some performers.
The reverb gives a little bit too much room effect.
There is no battery option, so you will have to set it somewhere with a live power source nearby.
That's it. No other cons, at least any that we could find.
Product Manual
This is one tiny pedal. It measures 4.4*2.4*1.8 inches, and weighs 13.6 ounces. Its baffling design makes it super suitable for any guitarist, regardless of them being novices or professional.
All in all this EarthQuaker Dispatch Master reverb is a technically very rich but user-friendly pedal. It is definitely the best deal out there within this price range.
Maintenance Guide
If you have ever owned a guitar pedal, you know the struggle. Especially with this reverb, you might face problems if you don't use a suitable power adapter.
As the pedal does not have battery options, for which you will require a standard 9V DC power adapter with a negative centre of 2.1 mm barrel. Do not use any adapter that is not intended for musical instruments.
Go through some routine maintenance work with this beautiful device. Make sure it is clean, and always turn it off after using.
Keeping it always turned on might not be a good idea, because it will wear your pedal down. Just make sure you follow these things, and it is very much possible that the pedal will definitely have a long life.
FAQs
Some of the frequently asked questions about this pedal are given below:
Q: How much current does this pedal draw?
A: 60 ma.
Q: Does it have side mountain jacks?
A: Yes, it does.
Q: Can I use a battery as my power source?
A: No. Unfortunately, this pedal does not have battery option.
Overall, we feel that this Dispatch Master reverb pedal from EarthQuaker Devices is one truly fantastic reverb pedal.
If you are an aspiring guitarist, and want to perform at the Madison Square Garden someday, this pedal might be a loyal partner throughout your journey. Stop being so hesitant and try this pedal out. We are sure it will not disappoint you.