8 Best Reverb Pedals For Guitar (2020 Reviews)
Are you on the fence about buying a new reverb pedal to complete your pedalboard, but can't decide which one is best?
We're here to help! Our top picks for the best reverb pedal are revealed below. And if you're not quite sure, we show you how you can confidently choose the best reverb pedal for your unique needs.
Top Picks: 8 Best Reverb Pedal Reviews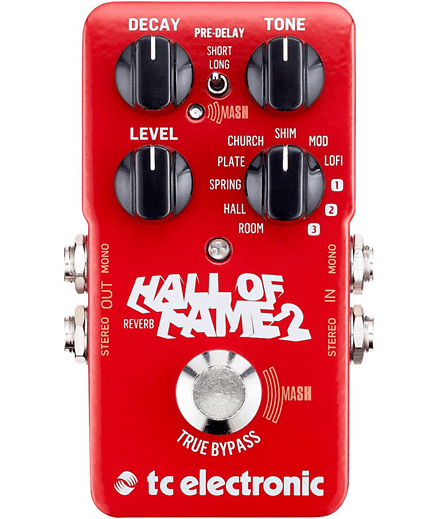 Specifications
Reverb Types: 8 + 3 TonePrint slots

Bypass: True and Buffered Bypass
Circuitry: Digital
TC Electronic has made a name for itself by making great quality analog and digital pedals at affordable prices. This latest offering, the Hall of Fame 2 is a major upgrade to their previous best-selling reverb pedal, the Hall of Fame. By introducing a new pressure-sensitive footswitch, known as MASH, you can now control the pedal's expression in real-time to fit your performance. It comes equipped with eight different types of reverbs – Room, Hall, Spring, Plate, Church, Mod, Lo-Fi, as well as the new Shimmer module that adds an ethereal sound to your guitar by pitching the reverb up a whole octave into a feedback loop. Each reverb module sounds amazingly pristine and adds incredible depth to your guitar sound.
TC Electronic pedals are also famous for their TonePrint technology, which lets you wirelessly 'beam' artist signature presets from their mobile app onto the pedal. The HoF 2 is no exception, and it contains 3 TonePrint slots so that you can store your favorite presets for live gigs as well as practice. According to Steve Vai (1):
The Hall of Fame reverb has a very nice wide wash with a mellow bite and plenty of shine for your own tone. A bit introspective and slowly ebbing and flowing; this reverb does sound like the ocean indeed!
The TC Electronic Hall of Fame 2 also has a true bypass feature, which completely bypasses the pedal when it is disengaged in your pedalboard. This ensures that the quality of your guitar signal is unaffected. However, there is also a buffered bypass system for those who wish to avoid any drops in signal strength in long pedalboard chains.
Considering all the unique features it comes packed with, this pedal is definitely the best guitar reverb pedal at its price range. If you're looking for a great reverb pedal on a moderate budget with more than ample features for all the situations a musician could even think of, then this is the perfect pedal for you. Read our full review of the TC electronic hall of fame pedal here.
Specifications
Reverb Types: 6

Bypass: Buffered
Circuitry: Digital
The Behringer DR600 provides you with six different reverb modes in 24-bit, high-resolution sound in a compact and very cheap pedal. It features Spring, Plate, Hall, Room, Gate, and Modulate reverbs. With dual output jacks, you get true stereo sound, and the level, tone, and time controls give you sufficient control over each reverb setting.
The pedal's reverb sounds are not as high quality as others on this list, but they are decent enough for its price. Between the six modes, you get enough variation to be able to achieve a variety of tones. However, it does not provide pleasant ambient soundscapes if that's what you're looking for.
Being the cheapest pedal on our list, the DR600 packs much more than is expected of it. It's not the best sounding or most versatile pedal here, but for those of you who are starting out and just need a simple reverb to go along with your amp, this no-frills pedal will get the job done.
Specifications
Reverb Types: 12

Bypass: True analog bypass
Circuitry: Digital
The Eventide Space is one of the most complex and in-depth reverb pedals in existence. It comes packed with 12 different signature reverb algorithms – Room, Plate, Spring, Hall, Reverse, Shimmer, ModEchoVerb, DualVerb, Blackhole, MangledVerb, TremoloVerb, and DynaVerb. Each of these is programmed to have an amazing sound quality and complement your tone perfectly. It comes with 100 factory presets, and you can add even more of your own. According to Barry Cleveland (2):
Space's effects, algorithms and presets don't just sound really good—they are truly inspiring, and make you want to play and to craft new sounds of your own.
The pedal has a comprehensive MIDI functionality that allows you to program your sound and express your musicality exactly as you desire. The digital display allows you to read what patch is currently active, which can be changed easily with its three footswitches during live performances. The Space also has delay, pitch-shifting, modulation, tremolo, and other special effects in-built to extend your sound even further.
If you're looking for the most comprehensive and best-sounding reverb pedal with studio-quality sounds and impressive customizability, this is the right pedal for you. With a sturdy build quality to last ages and features that'll take you to months to discover, this pedal is an excellent long-term investment.
Specifications
Reverb Types: 1

Bypass: Analog Bypass
Circuitry: Analog
The Danelectro DSR-1 Spring King is undoubtedly one of the best spring reverb pedals available today, and for a simple reason – It packs a real spring reverb tank inside its compact body. It features volume, tone, and reverb knobs to adjust your authentic spring reverb as you desire. It also sports a kick pad that lets you stomp on it for explosive reverbs. There is nothing fancy in this pedal, it's just pure analog spring reverb goodness packed in a portable pedal.
The spring reverb sound is authentic and very familiar to the classic '60s rock sound. For fans of rock bands like The Beatles and Led Zeppelin, this reverb will truly take you back to the golden era of rock and roll. The reverb on guitar adds just enough grit and thickness to your tone without taking anything away.
For those looking for an authentic spring reverb sound that you can carry around (without having to break the bank), this is the pedal for you. Being the only true analog pedal on this list, you're bound to get a true and pure sound out of your guitar.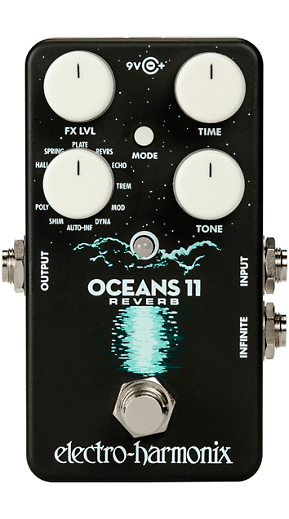 Specifications
Reverb Types: 11

Bypass: Buffered Bypass
Circuitry: Digital
The Electro-Harmonix Oceans 11 is one of the company's newest offerings, with major changes and improvements over their earlier Holy Grail series. It boasts 11 reverb options in a single compact pedal: Hall, Plate, Spring, Reverse, Echo, Trem, Mod, Dyna, Auto-Inf, Shim, and Poly. Each of these reverbs are studio-quality and noise-free. It features a 'tails' switch on the inside that lets you control whether the reverb will stop immediately upon bypass or trail off slowly to give a more natural feel. There is a Secondary Knob Mode that can be adjusted to give even greater control over your sound and hit the sweet spot.
The pedal also features a 1/4-inch Infinite Jack on the side that lets you momentarily enable an infinite reverb trail through an attached footswitch. Infinite reverb can also be achieved through several of the reverb types to give you lush and spacious sounds. The Spring reverb is based on a 1962 Fender 6G15, which is famous for its iconic sound.
The Oceans 11 is one of the most feature-packed pedals available at its price point. With 11 types of reverb and further customization options available, you can choose the sound you need. If you're looking for a pedal with very versatile features at an affordable price, this is the pedal for you.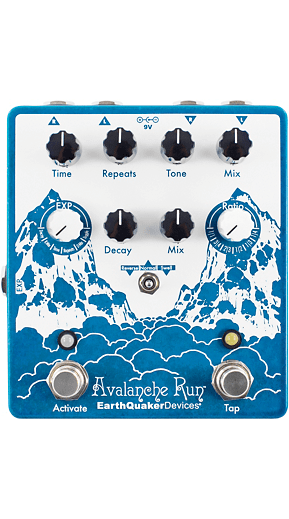 Specifications
Reverb Types: 1 Reverb and 1 Delay

Bypass: True and Buffered
Circuitry: Digital
The EarthQuaker Devices Avalanche Run V2 is a major upgrade from their Dispatch Master pedal and features iconic sounds from their old reverb and delay pedals. It has a lush, hall-style reverb sound, as well as a spacious delay that goes up to 2 seconds. When both delay and reverb are active, the delay comes first in the signal chain. Both these effects are powered by a professional DSP unit that outputs impressively high-quality effects.
The Avalanche comes equipped with an expression pedal input and an EXP knob, which lets you switch between 6 expression functions: reverb decay, reverb mix, delay time, delay repeats, delay mix, and forward/reverse delay. There are three operating modes as well: normal, reverse, and swell. In short, the Avalanche makes full use of its reverb and delay combinations to allow you to dial in the exact tone you desire.
With exotic effects in a great, easy-to-use format, this pedal is indeed very fun to play around with. Featuring a reverb as well as a delay, this pedal is amazingly versatile and is a great bargain for those who do not want separate pedals for delay and reverb.
Specifications
Reverb Types: 8

Bypass: True Bypass
Circuitry: Digital
Boss has been a pioneer in digital effects since the '80s, and is continuing to do so. The Boss RV 6 is one of their latest offerings, and improves on the earlier RV 5 reverb pedal. The pedal itself has the classic Boss design and comes with four knobs to control Effect Level, Tone, Time, and Reverb Mode. The pedal has stereo inputs for a true stereo output, as well as an expression pedal input. The pedal can be operated either on batteries or with a 9V adapter.
The RV 6 has eight different reverb modes to choose from – Modulate, Spring, Plate, Hall, Room, Dynamic, Shimmer, and +Delay. Each of these reverbs sound exquisite and could compete with reverbs found in high-end studio racks. The effects giant only keeps improving on their technology with every release, and this one does not disappoint.
This pedal packs an amazing amount of features in a compact box that can fit snugly on any pedalboard. For those Boss fans and others looking for major brand value, this pedal certainly lives up to its name. If you're searching for a great pedal with a reverb as well as a delay option on a moderate budget, this is the one for you.
Specifications
Reverb Types: 6

Bypass: True Bypass or Trails
Circuitry: Digital
Last but not the least on our list, the MXR M300 Digital Reverb Pedal packs six reverb effects into an easy to use and small pedal. The reverb modes included are: Plate, Spring, Epic, Mod, Room, Pad. Each one is meticulously crafted by MXR's team to achieve studio-quality sounds. With a simple three-knob control system (decay, tone, and mix), it's very quick and easy to dial in the right tone. The MXR M300 also includes expression pedal input, a true analog bypass, an option for the reverb to trail off, and a stereo mode.
The reverb sounds on this pedal are impressive and versatile. You can achieve a variety of different soundscapes by using the six different reverbs present here. Most genres like rock, blues, and pop are easily covered.
If you're looking for a simple reverb pedal that's quick and easy to use and covers all the essential bases, then this is the one for you. This pedal is great for those who do not wish to spend too much time configuring different settings and are looking for a simple reverb sound that fits.
How To Choose The Perfect Reverb Pedal Without becoming Overwhelmed
We understand that buying new gear is always a complicated process, and that's why we're here to help. You've already put in the time to choose a guitar, and maybe you've even done a few online lessons and mastered a few songs. Here are the major things to look out for when buying a new reverb pedal:
Features And Reverb Modes:
This all depends on what you wish your pedal to be like. Do you want versatility, or do you prefer simplicity?
Out of the reverb pedals mentioned here, the Eventide Space and the Electro-Harmonix Oceans 11 are extremely versatile pedals with a lot of reverb modes and several settings to configure so that you can adjust your tone precisely to fit any situation. On the other hand, pedals like the TC Electronic HoF, Behringer DR600, and the MXR M300 are much simpler to use with fewer knobs and settings to configure. It depends on whether you wish to spend hours configuring your tone to hit the tonal sweet spot, or you want a pedal that gets you what you need within a couple of minutes.
If you're a beginner, we recommend the TC Electronic Hall of Fame 2 reverb pedal as it has a great balance between versatility and user-friendliness.
Circuitry: Analog or Digital?
Have you heard the proverb "old is gold"? Well, that says it all. When it comes to the quality of sound, analog pedals generally are believed to trump digital ones.
However, most of the reverb pedals out in the market today are digital reverb pedals. That's because modern technology has really advanced these pedals, and now they sound as good as the analog ones (3).
Digital electronics lets us create pedals with ambient reverbs and exotic effects that simply can't be replicated by analog circuits. Hence, they are widely used today.
Out of the pedals listed here, all of them are digital except for the Danelectro DSR-1 (which has a real spring tank built inside). Analog reverb pedals are much rarer and more expensive nowadays, so unless you're really looking for the analog purist sound of the '60s, we recommend you to get digital reverb pedals.
Bypass: Buffered or True?
A dry guitar signal has a very high impedance, which can not be handled efficiently by all electronics. Pedals equipped with buffered bypass turn the signal into low impedance to make sure that you don't lose your tone significantly.
However, some of the cheaper pedals often come with a low-quality buffer bypass, which causes "tone sucking", hence making it pointless and causing you to lose the richness in your guitar sound.
Meanwhile, pedals with a true bypass route your signal directly and don't color your tone in any way. This works best when you only use a couple of pedals and short cables. But adding more true bypass pedals means more cables, and that will result in a loss of brightness and treble, so you have to be careful about that.
Depending on your pedalboard size and the length of your overall signal chain, different bypass modes may be required in different circumstances.
Hence, if you're unsure about which one you need, we recommend getting a pedal with both options so you can switch to what's best.
Play Around With A Few Pedals.
Make sure you test out a few pedals before you make your purchase. Most music stores have a place where you can try out pedals. Try to imitate your home settings while you try these pedals out. This way, you will know what the reverb will really sound like at your home.
If you really like the sound, just buy it. If you don't, keep looking till you find the right one.
FAQs
No, all reverb pedals are not digital. There are many analog reverb pedals available on the market. However, most modern reverb pedals are digital simply because they outperform their analog counterparts and are more reliable for long-term usage.
Yes, all of these listed reverb pedals will work well with vocals, keys, bass, or any other instrument, as long as they are appropriately adjusted for optimum clarity and sound quality. Many pedals have different reverb settings that are better suited to certain genres and instruments.
Most of these pedals come with their required power supplies. Otherwise, the usual power output is a standard 9 volts, for which you can buy third-party external adapters as well. Some of these pedals can run on batteries as well.
No, they do not revert to their default preset settings. Most of these reverb pedals have built-in memory that preserves the last customized settings for user convenience. Some have patches as well, where you can store user presets as per convenience.
References
TonePrint for Hall Of Fame Reverb: "Ocean Machine". Retrieved from: https://www.youtube.com/watch?v=wfuY_vTS-BE

Space Reverb Pedal. Retrieved from: https://www.eventideaudio.com/products/stompboxes/reverb/space


Analog Versus Digital Effects Pedals With Digitech And DOD Mastermind Tom Cram. Retrieved from https://pro.harman.com/insights/entertainment/touring/analog-versus-digital-effects-pedals-with-digitech-and-dod-mastermind-tom-cram/