9 Best Delay Pedals For Guitars (2020 Reviews)
Are you searching for that classic vintage delay sound to add some much-needed depth to your guitar tone? Can't decide on which delay pedal is best for you?
We've got you covered. We've compiled a list of the best delay pedals available today, and also included a buying guide detailing all the quintessential things you should consider first.
Top Picks: 9 Best Delay Pedal Reviews For Guitar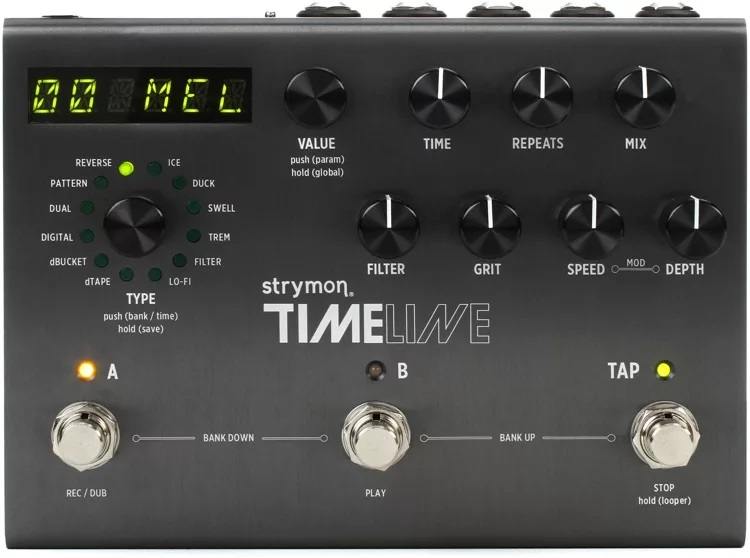 Specifications
Delay Modes: 12

Controls: Type, Value, Time, Mix, Repeats, Filter, Grit, Speed, Depth, A/B Bank, Tap Tempo
Bypass: True Bypass
Circuitry: Digital
Strymon is well known for making exceptionally high-quality effects, and their latest offering, the Strymon TimeLine, is a culmination of their years of dedication to perfection. The TimeLine features 12 distinct delay modes: Digital, Dual, Pattern, Reverse, Ice, Duck, Swell, Trem, Filter, Lo-Fi, dTape, and dBucket. It also features a 30-second looper and 200 memory slots for factory and user presets.
Each delay machine in the TimeLine is intricately crafted to sound amazing and add depth to your tone. Between the twelve delay types and the host of controls available, you can fine-tune your sound to achieve any delay you like: from a classic analog delay tone to innovative and spacious soundscapes. Whether you're playing blues, classic rock and metal, or even ambient post-rock, this pedal covers everything. According to Guitar Player Magazine (1):
TimeLine's variety and quality of sounds, solid construction, and ease of use— all at a reasonable price point—more than qualifies it for an Editors' Pick Award.
All of this delay goodness is enclosed in a compact and sturdy aluminum chassis that's been built to last. You can switch between banks easily with the press of a footswitch and quickly tap the tempo to change the time-based effects. You also have stereo inputs and stereo outputs, as well as a jack to connect an expression pedal to change your delay effects in real-time. Further, the True bypass prevents the TimeLine from sucking any tone from your guitar when disengaged.
If you're looking for the best sounding delay pedal with an incredible amount of customizability, then the Strymon TimeLine was made for you. This is simply the best guitar delay pedal there is, period. It can serve you well for bedroom practice, live performances, or even studio recordings. It comes at a slightly hefty price, but it's worth every cent.
Specifications
Delay Modes: 1

Controls: Echo, Feedback, Time, Bypass
Bypass: True Bypass
Circuitry: Analog
Donner has made a name for itself by producing very affordable instruments and effects with surprisingly good quality. The Donner Yellow Fall is another surprise in their ever-expanding arsenal. The Yellow Fall is a simple analog pedal with just one delay mode and three basic controls for echo, feedback, and time. It also features a true bypass footswitch to ensure your tone does not get affected when the pedal is disengaged.
The Yellow Fall's delay is simple, clean, and pure. The sound of the delay is more of a hybrid between an analog and a digital delay. It works as you would expect it to, with a maximum of 600ms of delay time. There is no unnecessary hum or distortion in the signal. The controls are easy to use, so your desired delay can be configured very easily.
The Yellow Fall comes in a full metal chassis with a really good build quality for its price. There is one mono input and one mono output jack. The pedal is compact enough to easily fit in any pedalboard.
If you're looking for a simple classic delay effect pedal on a tight budget, then the Donner Yellow Fall fits the bill perfectly. There's nothing fancy about it; it just works great. It's simple, compact, and sounds good. That's why it's the best budget delay pedal, according to us.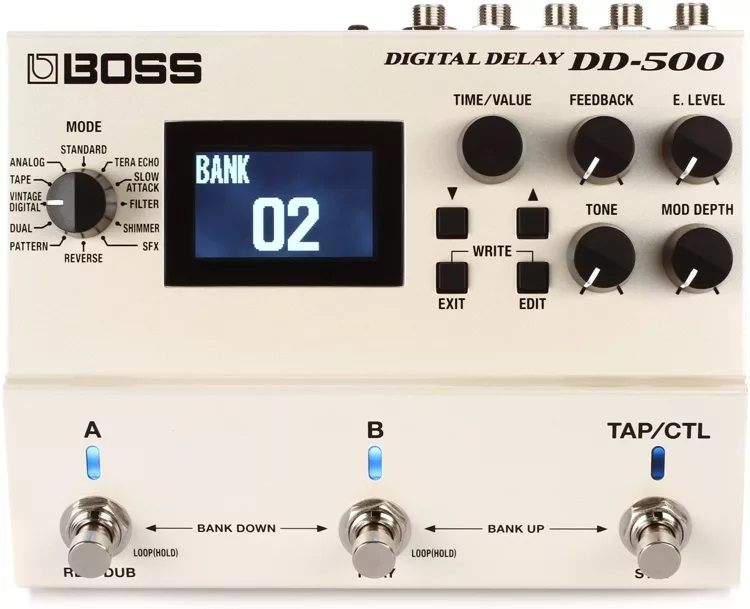 Specifications
Delay Modes: 12

Controls: Mode, Time, Feedback, E. Level, Tone, Mod Depth, A/B Bank, Tap Ctrl
Bypass: True and Buffered
Circuitry: Digital
Boss has long been a pioneer in the world of effects, with their first digital delay, the DD-2, being launched in 1983. Since then, the Japanese company has made massive strides in technological improvement, and their result is the Boss DD-500, a multi-delay pedal designed to do it all. The DD-500 features twelve delay types, 297 memory patches, a 120-second looper, and much more under the hood.
The delay modes available on this pedal are: Standard, Analog, Tape, Vintage Digital, Dual, Pattern, Reverse, SFX, Shimmer, Filter, Slow Attack, and Boss' proprietary Tera Echo. These delays can be comprehensively customized with the onboard controls as well as the easy-to-use LED screen. Every delay features high-end 32-bit / 96 kHz processing, which delivers studio-quality sound throughout.
The onboard 120-second looper lets you explore your sonic capabilities to the fullest, with multi-layering and harmonic overdubbing possibilities. Delay modes like SFX, Tera Echo, and Pattern add an ethereal feel to your tone.
The DD-500 comes with three footswitches that let you switch the banks as well as tap tempo according to the song you're playing. There are stereo inputs and stereo outputs, full MIDI support, as well as an expression pedal jack.
The Boss DD-500 is an amazingly versatile piece of gear. If you're looking for the most versatile delay pedal with a suite of different modes and functions, then this is the one for you. The DD-500 is incredibly flexible and customizable at an affordable price, and is an excellent addition to any musician's collection of guitar pedals.
Specifications
Delay Modes: 1

Controls: Regen, Mix, Delay, Mod, Bypass
Bypass: True Bypass
Circuitry: Analog
The MXR Carbon Copy is a classic analog delay pedal, featuring a true analog audio path using old-school bucket brigade technology. There are no digital components in this pedal; this is a slice of authentic vintage gear for those old-school guitarists. The Carbon Copy comes with only a single analog delay, that can go from 20 ms in delay time to 600 ms. You can control the number of repeats with the regen knob, and their volume using the mix knob. There is also a mod switch that adds a flavor of pitch shifting to the delays, to add thickness to the sound.
Upon going inside the pedal, you can find two trim pots on the inside panel, which is also used for batteries, that control the width and speed of the modulation. These can be configured once to taste and then left there.
The Carbon Copy's delay sounds mesmerizingly fantastic. It's reminiscent of the classic vintage delay sound, and you can easily get delay sounds similar to those used by rockstar legends like Pink Floyd (David Gilmour), The Beatles, Slash, and so on. From a thick rock sound to lush and ambient cleans, this pedal can do it all with its analog delays.
If you're looking for an analog delay effect with a classic delay tone, then the MXR Carbon Copy is for you. Even with a single delay, it proves to be quite versatile and can fit many modern guitarists' needs as well. It's compact, rugged, and easy to use as well. It's simply one of the best analog delays there is today.
Specifications
Delay Modes: 8 + 3 TonePrint slots

Controls: Delay, Feedback, Level, Mode, MASH
Bypass: True Bypass
Circuitry: Digital
TC Electronic's pedals are a staple for any guitarist's pedalboard. The new Flashback 2 is a major upgrade over their earlier pedals, and it now includes 8 delay types: 2290, Analog, Tape Delay, Dynamic, Mod, Crystal, RVS, Loop. You also get 3 TonePrint slots to include your own favorite presets.
The major new feature in the Flashback 2 is the MASH technology, which lets you use the bypass footswitch as a pressure-sensitive expression pedal for greater control over your sound, being able to control mix, modulation, or feedback. The Audio Tapping feature lets you set the delay tempo by strumming your guitar to the beat.
Each of the digital delays in the Flashback 2 sound pristine and clear, and the TonePrint functionality adds amazing versatility. You can use the TonePrint editor on your PC, Mac, or iPad and design your tone according to your taste. Or you can just use one of your favorite artists' tones from their store. According to Joe Perry (2):
The cool thing about the Flashback pedal is that two years ago I put these in Joe's rack. The cool thing about that is that Joe changes weekly, but this one's still there. He really enjoys its sound.
The true bypass allows you to disengage the pedal without causing any tone-sucking, and the analog dry through ensures that your guitar signal's integrity and clarity are maintained throughout the chain. With stereo inputs and outputs, this pedal covers you for any scenario.
If you're looking for a great guitar delay pedal with a lot of unique features at a very reasonable price, then the TC Electronics Flashback 2 is for you. It's used by several famous artists across the globe. It's a lot of power packed into a relatively compact pedal, making it the delay effect pedal with the best value for money available today.
Specifications
Delay Modes: 9

Controls: Mix, Delay Mix, D. Time A, D. Time B, F.back A, F.back B, Tempo, Xnob, Depth, Speed, Filter, Active, Repeat, Tap
Bypass: True And Buffered
Circuitry: Digital
The TimeFactor Dual Delay comes from Eventide, a studio effects processing giant, and features 9 dual delay modes with independent controls for each delay channel. It also comes with a looper, and three footswitches for easy patch switching and control.
The delay modes available here are: Digital, Vintage, Tape Echo, Mod, Ducked, Band, FilterPong, MultiTap, and Reverse. Each of these have studio-quality sound and are easily customizable via the control knobs. Each delay is a dual delay, meaning that each delay has an A and B channel, which can be controlled separately via the knobs. This dual delay works best in stereo, as you can have separate delay settings on the left and right channels, hence making this pedal extremely powerful for both live performances and studio recordings.
The unique Xnob control allows you to further customize your delay sound with special settings such as crossfade. The pedal features true bypass to prevent any tone sucking, but also has a buffered bypass mode. The onboard 12-second looper lets you create loops and overdubs as well.
The TimeFactor has a solid cast metal construction and is built to last. It features 100 customizable presets that can be instantly changed during live play. There are a lot of connectivity options here for mono and stereo operation, and there is full MIDI capability as well.
This multi-delay pedal is a good long-term investment for any serious guitar player or musician. It can perform well in a variety of situations, and its true sonic potential would take years to fully explore. If you're looking for a solid multi-purpose pedal, the TimeFactor is a great choice.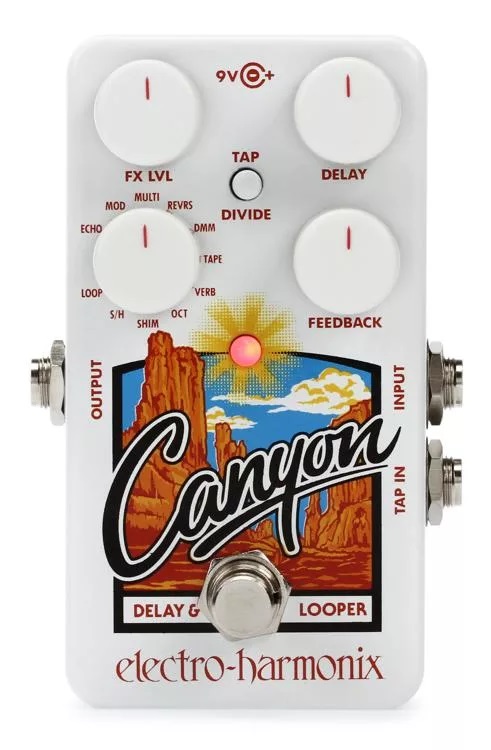 Specifications
Delay Modes: 10

Controls: FX Lvl, Delay, Feedback, Mode, Bypass
Bypass: Buffered Bypass
Circuitry: Digital
Electro-Harmonix, a very cool sounding company in itself, are well known for producing high quality digital and analog effects. The EHX Canyon Delay is one of their new releases and promises to deliver an incredible 10 delay modes as well as a looper in a compact and affordable package.
The Canyon's delay modes are: Echo, Mod, Multi, Revrs, DMM, Tape, Verb, Oct, Shim, and S/H. The DMM model is a recreation of their famous Deluxe Memory Man analog delay effect. Each mode sounds beautifully crystal clear, a trademark sound of EHX effects. There is also the Verb, a reverb + delay mode that'll fulfill both needs simultaneously. Between these ten modes, you get enough versatility for any genre of music you wish to play. The delay time ranges from 5 ms to 3 seconds (3000ms).
There is also a Tails switch that allows you to choose if echoes repeat after the bypass is turned on, or if they will stop immediately. The secondary knob lets you control some extra parameters of the delays and gives you greater customizability. There is a 62-second looper onboard with overdubs as well.
The pedal's chassis is compact, albeit with a slightly plasticky feel. It comes with mono ¼" input and output jacks on the sides. It sports a cool EHX logo and 'Canyon' poster as well – quite reminiscent of vintage pedals.
The EHX Canyon Delay is an amazing and very versatile pedal with incredible sounds. With reverb, 9 delays, and a looper onboard, it caters to a wide range of needs. If you're looking for a single pedal that can do all these together, then definitely give the Canyon a try.
Specifications
Delay Modes: 10

Controls: E. Level, Feedback, Time, Mode, Bypass
Bypass: Buffered Bypass
Circuitry: Digital
Another Boss pedal on this list, the DD-8 is their latest offering in their series of compact pedals. It's a significant improvement over their earlier DD 3, DM 2, and DD 7 models, and aims to pack more power and features in the classic Boss pedal design.
It comes with 10 delay modes: Analog, Standard, Tape, Warm, Reverse, RV+, Shimmer, Mod, Warp, and GLT. The RV+ mode is a reverb + delay mode to fulfill dual purposes simultaneously. The GLT mode is Boss' new design, which has a glitchy rhythmic sound and is great for electronic genres. The Warp effect adds swell and feedback to your sound. Besides these unique delays, the rest of the delays sound pristine and amazing, as is expected of Boss.
The delay time in the pedal ranges from 12ms to over 10 seconds (10000 ms) based on the tempo. There is also an in-built looper with up to 40 seconds of recording time with overdubs, that can also be controlled by external footswitches. A carryover switch lets you control if the delay trails off when bypassed or stops immediately.
The pedal comes in a compact and sturdy chassis, similar to all classic Boss pedals, with a big footswitch that's easy to access. It has stereo ¼" input and output jacks, as well as a jack for expression pedal/tap tempo input. You can choose between stereo, mono, wet/dry, and wet only connectivity options based on your needs.
If you're a fan of the classic Boss pedal design and have used previous Boss' delay pedals before, the DD8 is certainly a significant improvement and is worth the buy. It's a classic digital delay with a host of new features, new sounds, and improved connectivity in the same compact package.
Specifications
Delay Modes: 4

Controls: Mix, Mode, Time, F.Back, Channel, Bypass
Bypass: Buffered Bypass
Circuitry: Digital
Joyo is a relatively small manufacturer from the UK, but has become well known for producing quality effects and amplifiers at affordable prices. The Joyo D-Seed is a dual-channel digital delay effect pedal with 4 delay modes.
The delay modes available here are quite standard: Analog, Modulation, Reverse, Copy. Each of these sounds good and clear, without any distortion or noise. The maximum delay time here is 6000ms, from a minimum of 17ms. Since the pedal is dual channel, you can control the parameters of each channel separately using the channel footswitch, which lets you combine two different delay sounds together for some interesting mixes.
The pedal comes in a simple plain white chassis. It's sturdy enough to survive any rough usage, and can fit in any medium-sized or bigger pedalboards. There are mono ¼" input and output jacks, with support for an external pedal as well.
If you're looking for a simple delay effect with multiple modes and options on a budget, then the Joyo D-Seed is good for you. It's got enough variation for plenty of musicians, and it won't break the bank. With the dual-channel modes, you have some interesting possibilities as well.
How To Choose The Right Delay Pedal
If you're unsure about how to pick the delay pedal that's right for you, then read on and keep the following important things in mind:
Consider Features And Delay Modes
This all depends on what you wish your pedal to be like. Do you want versatility, or do you prefer simplicity?
Out of the delay pedals mentioned here, the Strymon TimeLine and the Boss DD-500 are extremely versatile pedals with many delay modes and several settings and features to configure so that you can adjust your tone precisely to fit any situation. On the other hand, pedals like the TC Electronic Flashback 2, Donner Yellow Fall, and the MXR Carbon Copy, are much simpler and easier to use with fewer knobs and settings to configure. It depends on whether you want to spend hours configuring your tone to hit the tonal sweet spot, or you want a pedal that just gets you what you need quickly and without too much hassle.
If you're a beginner, we recommend the TC Electronic Flashback 2 as it has a great balance between versatility and user-friendliness, and is amazing value for money.
Circuitry: Analog or Digital?
You've probably heard the proverb that "old is gold"? Well, that does say it all. When it comes to the quality of sound, analog pedals generally do trump digital ones.
However, most of the delay pedals out in the market today are digital delay pedals. That's because modern technology has really advanced since the era of analogs, which allows these pedals to accomplish much more than their analog counterparts.
Digital delay pedals are more versatile and capable of producing unique and exotic effects. Digital delays can reach delay times that are physically impossible to achieve with analog delays.
We've listed a collection of both digital and analog pedals here. For analog purists, we recommend the MXR Carbon Copy, as it has a true vintage tone and it's quite easy to dial in. However, such analog pedals are very limited; hence, for beginners, we'd recommend getting a digital delay as they have more effects to choose from and experiment with.
Bypass: Buffered or True?
A dry guitar signal has a very high impedance, which can not be handled efficiently by all electronics. Pedals equipped with buffered bypass turn the signal into low impedance to make sure that you don't lose your tone significantly. It again amplifies the signal to prevent any loss in signal strength.
Meanwhile, pedals with a true bypass route your signal directly through the output and don't color your tone in any way. This works best when you only use a couple of pedals and short cables. But adding more true bypass pedals means more cables, and that will result in a loss of brightness and treble along the signal chain, so you have to be careful about that.
However, some of the cheaper pedals often come with a low-quality buffered bypass, which causes "tone sucking," hence making it pointless and causing you to lose the richness of your guitar sound (3).
Depending on your pedalboard size and the length of your overall signal chain, different bypass modes may be required in different circumstances.
Hence, if you're unsure about which one you need, we recommend getting a pedal with both options so you can switch to what's best suited for your circumstances.
Test A Few Pedals
Make sure you test out a few pedals before you make your purchase. Most music stores have a specific place where you can try out pedals.
Try to imitate your home settings while you try these pedals out. This way, you will know what the delay will really sound like at your home. Think about whether it would also work for your studio, the stage, or any other place where you might use the pedal.
If you really like the sound of a particular pedal, just buy it. If you don't, keep looking till you find the right one.
FAQs
The best, as well as the most affordable analog delay pedal, would be the MXR M169 Carbon Copy. It has a pure analog audio signal path and features a vintage delay tone reminiscent of the '70s golden era. It is compact and easy to use with only three knobs.
Yes, a delay pedal can be used with an acoustic guitar. A delay pedal only needs a dry signal fed through the input pot to create a wet signal through the output port. The dry signal comes from a guitar audio cable, and the wet signal comes from the delay pedal to the speaker via an amplifier. All you need to have is a good pickup on your guitar, and you are good to go.
Yes, it is possible to stack two delay pedals. This is done in ambient music styles like post-rock, and when a guitarist wants to create calm chord swells. For the best resultant delay tone, two pedals stacked in series are set to different delay times with different mixes in stereo operation to have different delays on the left and right channels.
Yes, you can use a delay pedal with vocals, keyboard, bass guitar, or almost any other instrument with an electric pickup. A delay effect will work with any kind of instrument provided it is fed with the dry signal.
David Gilmour is known for having used the Binson Echorec, MXR Digital Delay, as well as the TC Electronic 2290. If you're looking for a Gilmour-type sound, we recommend the MXR Carbon Copy as well as the TC Electronic Flashback 2. Both these pedals can provide you with similar delay tones.
References
Timeline – Multidimensional Delay Pedal. Retrieved from: https://www.strymon.net/products/timeline/

Joe Perry (Aerosmith) Gear run. Retrieved from: https://youtu.be/8mLRlBVGsXM?t=16


What are the Differences Between Buffered and True Bypass Pedals? Retrieved from: https://www.sweetwater.com/insync/what-are-the-differences-between-buffered-and-true-bypass-pedals/