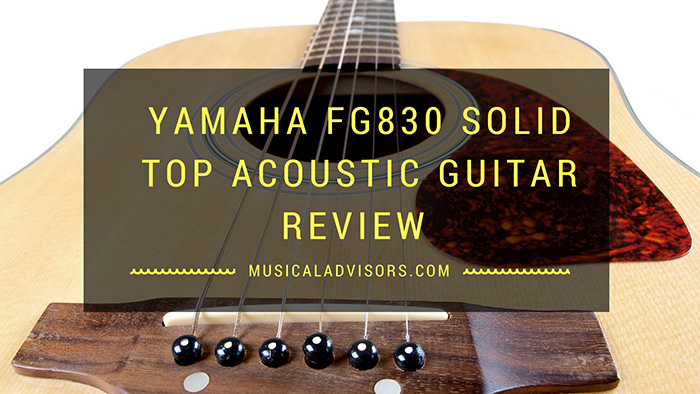 Yamaha FG830 Solid Top Acoustic Guitar Review – 2019 Edition
When I was searching for my first acoustic guitar, I felt overwhelmed with the endless options available to me. I finally found a guitar that worked for me, but looking back, I wish someone had helped me narrow my search. That's what I'm here to help you with. If you're purchasing a new guitar, it's comforting to buy from a reputable company.
That's how I feel about Yamaha guitars: they're great quality and they'll last you for many years to come. The Yamaha FG830 Acoustic Guitar might be exactly what you're looking for if you want great sound quality for an affordable price.
---
Things to consider before buying a Yamaha FG830 Acoustic Guitar
The Yamaha FG830 Acoustic Guitar solves the age-old problem of finding an affordable instrument that still produces high-quality sound. This model is quite a good choice considering its price, but that's the thing: it's not an expensive guitar.
I'd recommend this guitar to beginner musicians or experienced musicians that don't perform professionally. If you're a performer, this guitar might not cut it. If you want to check out upper range performance guitars, I'd suggest Martin's Performing Artist Series
Before purchasing a guitar, ask yourself how much you're willing to invest and what your goals as a musician are.
The Product
The Yamaha FG series is extremely popular. In terms of the FG830, Yamaha promises rich tones and improved sustain. You'll have the choice of purchasing a Natural, Autumn Burst, or a Tobacco Brown finish.
Like I already mentioned, this guitar is a dreadnought, meaning you can expect a larger sized guitar. Additionally, a case isn't included with this guitar, but this is very common with many major companies
Pros
Great sustain
Custom designed bridge bracing
Clear and strong bass tones
Cons
Dreadnought models may be too large
No cutaway may limit some players
No pick-up
Features
Reviews
I've scoured the Internet and found many online reviews that have raved about how good the sound quality of this guitar is considering its mid-range price. Some reviewers even say the Yamaha FG830 Acoustic Guitar is the best model in the entire FG line. Here are some comments from buyers:
Alternatives
The L1XE Little Martin may be a good fit if you find dreadnought models too cumbersome because you have a small frame.
If you think the FG830's frets may be too large for you, you can also check out this article on the best guitars for small hands.
The L1XE is less in price (less than $600 USD), and does not have a custom bridge brace.
---
If you're a performer, you may want a guitar that comes with a pick-up.
The Yamaha FSX830C is great for performance settings, but is more expensive than the Yamaha FG830 Acoustic Guitar.
This guitar also includes a cutaway, which is useful for high register playing.
---
You may like the FG line-up, but are looking for something of a better quality.
The Yamaha FG850 comes from the same popular line, but steps things up in terms of the quality of the wood.
This guitar is made with mahogany, which will create a warm sound and rich middle frequencies.
Image Credits: Amazon.com
Conclusion
This is a guitar that will ring true to Yamaha's claims. You're guaranteed resonance, strong bass tones, and a bright sound from the spruce wood top. Additionally, you'll also be able to hear you guitar improve with age as the spruce begins to open up. Click here to check it out:
Love this post? Share now