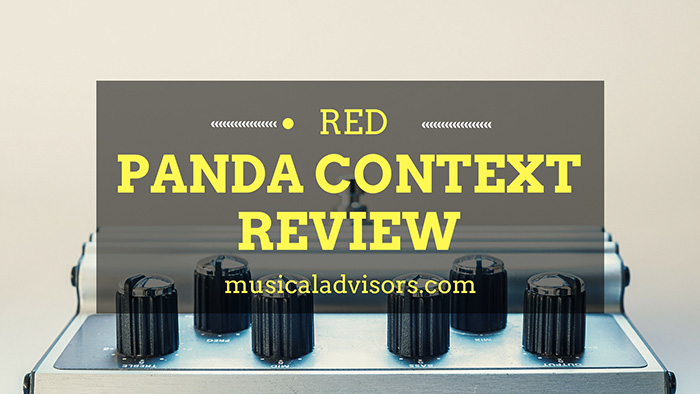 Red Panda Context Reverb Pedal Review – 2017 Edition
In the past, I bought pedals that didn't meet my standards. It would have been helpful if someone had given me reliable company names before I invested.
This Red Panda Context Review will help you make a decision on what pedal to purchase. Keep reading for more on the Context's unique features.
Things to Consider Before Buying the Red Panda Context- Done.
Different guitar pedals create different effects, so make sure you consider your preferred type of music before you purchase. This pedal will be great for you if you want delay effects with a traditional feel.
If you want abstract sounds, you may want to check out the Alternatives section below. Red Panda pedals are complex, so it will take some time to learn all of its features. If you're new to pedals, check out these additional tips.
Things to consider:
Your preferred style of music
Your experience with pedals
Your budget (this is a higher end pedal)
Red Panda Context Pedal
The Context pedal will take your audio, and adjust the amount of reverberance to sound like different acoustic environments. This decide is the most user-friendly of all Red Panda pedals, making it a great choice if you're a beginner.
This pedal sounds more traditional than other Red Panda products, so it might not be for you if you're looking for an abstract sound.
Pros
Most user-friendly of all Red Panda products
Sounds great easily
Up to 100% wet sound
Cons
Not abstract sounding (may be a pro or a con)
Fewer features than other pedals
Limited to one amp (Mono In/Out)
Features
The Red Panda Context has six reverb settings that can be blended and adjusted with the Blend, Delay, Decay, and Damping settings at the top of your pedal.
The Blend knob at the top of your pedal will allow you to create a wet or dry sound. The Delay knob will set the delay time to mimic different acoustic settings. The greater the delay time, the more you'll hear the effects of your pedal.
Your Decay knob will then affect whether your reverb time is small or large and your Damping pedal will allow you to adjust the intensity of the reverb, so your instrument won't fade into the background.
By combining these settings with your reverb settings, you can create unique sounds. Let's take a look at the Context's six reverb settings:
Social Proof
After scouring the internet, I have found many positive reviews from owners of the Context pedal that praise its ability to create high quality reverbs with ease. A lot of musicians seem to enjoy the Cathedral setting the most. Here's what some of those satisfied buyers had to say:
source: www.bestguitareffects.com
source : www.ilovefuzz.com
Alternatives
If you're an out-of-the-box kind of musician and you want a bit more obscurity in your sound, Red Panda pedals are still the answer. I'd suggest the Particle pedal because it's also great quality, but has a Reverse Delay mode which will be sure to blow your audience away.
---
Often, musicians who are looking for a reverb pedal also enjoy delay pedals because they create a similar echo sound. If you want to explore delay pedals, check out the DD-3 model. You'll have a wide variety of settings to choose from, and you'll be bound to get great quality if you purchase a Boss pedal.
---
I often recommend the mini version of the TC Electronic Flashback, but the full delay/looper pedal version is also extremely impressive. Looper pedals will allow you to create harmonies while you perform.
Image Credits: Amazon.com
Conclusion
The Context is great if you want to experiment with many different reverb settings. It can often be hard to find a delay pedal that meets the claims of the company, so hopefully, this review helped you make your decision to purchase the Context.