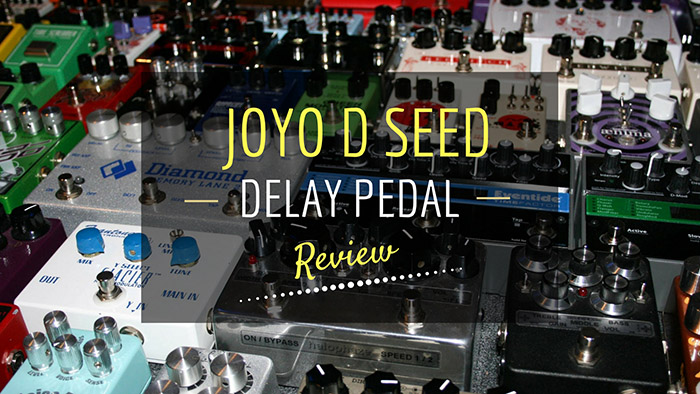 A Review of the Joyo D Seed Delay Pedal – Update 2019
Featured image source: www.youtube.com
I'm always searching for high quality pedals for an affordable price. I used to worry that if I spent less on a pedal, I'd be disappointed with the quality. That's why I'm here to make your search for a budget pedal easier and tell you about the Joyo D Seed Delay Pedal.
---
Things to Consider Before Buying a Delay Pedal
Depending on your music, choosing the perfect delay pedal will be a personal process. This pedal will solve the problem of not being able to find a pedal that sounds high-quality for an affordable price. However, before you purchase this pedal, consider:
Your genre

How complex the pedal should be
If you want to create obscure sounds, I'd recommend checking out some Red Panda pedals.
If you still aren't satisfied, check out this article on the best delay pedal.
You should also ask yourself how complex the pedal should be, as this pedal has four knobs and is pretty average in terms of complexity.
The Joyo D Seed Delay Pedal Review
Before we get into the specifics, it's important to understand delay pedals do. Your delay pedal will take your audio signal and repeat it back to you, creating echo effects. One of my favourite ways to use a delay pedal is in a chain, which you can read more about here.
In comparison to leading delay pedals like the Boss DD-3, this pedal is more affordable, which is great for musicians who want a similar sound but are on a budget.
Affordable
Dual Channel
Durable
Less delay time than other pedals
Not the highest quality
Can't be powered by a battery
Features
This pedal has an impressive number of features considering its price. The Joyo D-Seed is really durable, making it a great fit for musicians who are worried about their gear getting damaged.
You'll have a single mono audio input and output feature and an external switch input. Your pedal will also come with a straightforward joyo d-seed manual that will give you even more detail.
Reviews
I've scoured the internet to find out what owners of this delay pedal think about the quality. There are an overwhelming number of joyo d seed review comments that rave about the production quality considering the pedal's affordability.
Let's take a look at what some other musicians are saying:
Source: bedroomproducersblog.com
Alternatives
Here are some alternative pedals:
1. Boss DD-3 Digital Delay
This is one of the leading delay pedals on the market, and it will step things up a bit in terms of the sound quality, but also the price. You'll also have four knobs with this pedal and a hold function that repeats your delay indefinitely, which is a neat effect
---
2. Red Panda Particle Delay
I already mentioned that Red Panda products are great for out-of-the-box musicians. The Particle will cut your audio into pieces and delay the sound which will give you a robotic tone.
---
3. TC Electronic Flashback Delay / Looper Pedal
I can always be sure that I'm getting a good quality product when I purchase TC Electronic's products. The Flashback has a looper setting, which you won't find on the Joyo D-Seed.
Image source: amazon.com
In Sum
Finding a delay pedal that meets your budget and sounds great can be tough, so hopefully, you found this Joyo D Seed Delay review helpful. This model is affordable but still has a great sound and four settings to experiment with.
Love this post? Share now