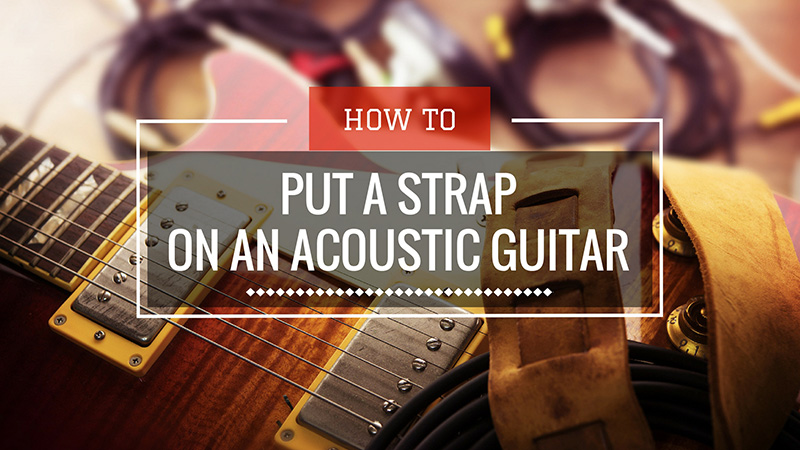 How to Put a Strap on an Acoustic Guitar
For many guitarists, the problem of how to put a strap on an acoustic guitar is not even a problem at all. It all seems so simple – you just attach the damn thing, and that's it!
However, there are a few noteworthy things about the process of how to attach a guitar strap that every guitarist should be aware of if he or she doesn't want to the instrument while playing.
Guitarists cannot afford themselves to look bad in front of the other guitarists – they just won't forgive them.
So if you don't want to give your peers such satisfaction, relax, kick back, and read these simple yet powerful tips.
Choose A Strap That's Right For You
First up on our "How to put a strap on an acoustic guitar" guide is the strap itself. You may already one, but if you don't, take some time to search the Internet or your local music store in order to find a strap you'll be comfortable with.
Here are some of the things you may want to consider when choosing a strap for your acoustic guitar:
Material

- Most guitar straps are made of the same material as seatbelts, and for the most part, they're OK. However, if you cough up a few extra dollars, you might get a leather strap, which is much more durable and feels more pleasantly on your shoulder.

Length

– this one is of the least concern to you since all straps can be length-adjusted. Still, there's nothing wrong in trying a few different straps to see how well they sit on you and your guitar length-wise.

Additional padding

– a nice little feature that some of the high-end straps have to make your should feel more comfortable when a guitar strap is hung over it. Again, don't be hesitant to spend a few extra bucks to buy yourself some more comfort.

Looks

– this is totally arbitrary. Whether you prefer skulls and crosses to happy kittens is your personal choice – let your fantasy go wild.
How to Put a Strap on an Acoustic Guitar?
ste

p

1

step 2

step 3

step 4

step 5

step 6
Step 2: Get A Thin And Short String (A Shoestring Will Do)
Just like we've mentioned before, most acoustic guitars have only one strap pin at the bottom. So, the strap's other end should be attached directly to the headstock, just above the neck of your guitar.
In order to do this, you will require a short-length string (size of a shoestring) unless your guitar strap already has one.
Conclusion
Now, with your strap on, you're ready to play! Thanks for reading this article – we hope you've learned something useful today.
Note: Some people install 1 more strap pin into their acoustic guitar. But I don't recommend this because it has a risk. But If you want a video demonstration of how to put a strap pin on an acoustic guitar, I've got it right here.